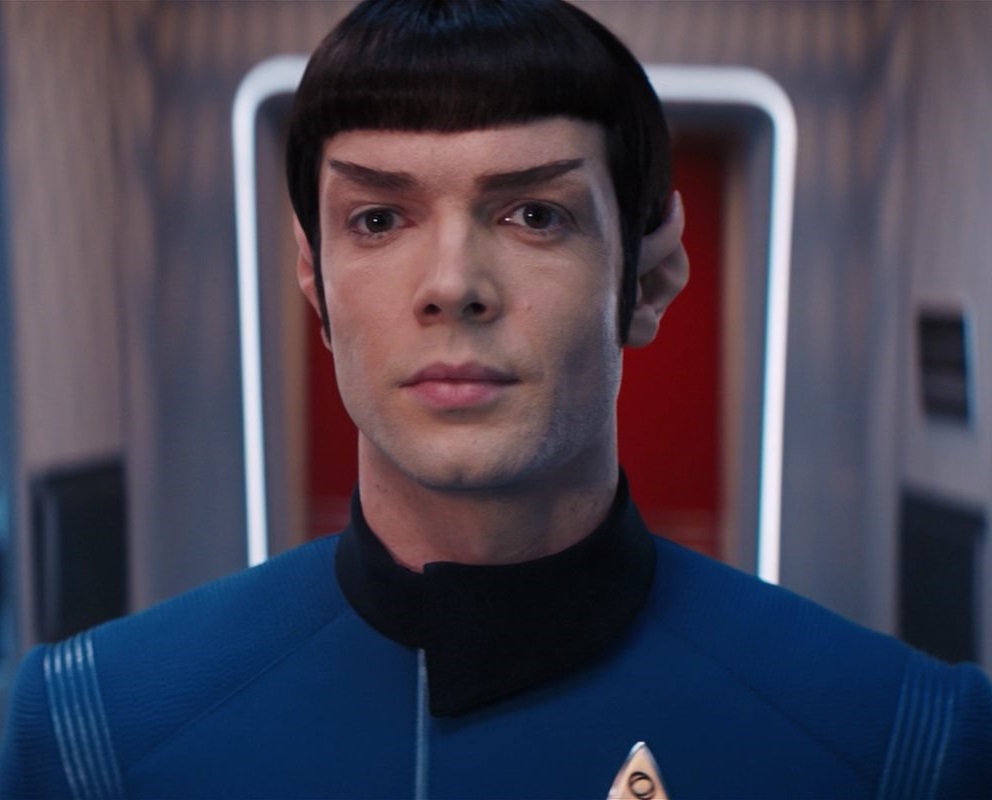 When I started my run through the Star Trek movie franchise, I was curious to find out if I'd like these stories now more or less than I had in my earlier days. I loved the J.J. Abrams relaunch when I'd seen it in the movie theaters, but I kept hearing from various friends that I "didn't understand" Star Trek, that if I was a Star Trek fan I wouldn't like the movie. Well, I wasn't, and I did, but I'm always willing to reconsider. (I've always found the "you don't get it" argument curious, as if one's opinion on a movie was dependent on the viewer having done homework prior to watching it. An audience will experience a movie in a variety of ways. Get on with it.) I explained my general indifference to all things Star Trek back at the start, so if you want a recap, go ahead and check it out.
My general reaction to the movies is slightly more positive than my initial viewings were all those years ago. I actively want to go back and watch The Original Series now, and I can't say I ever felt that way before; before it was just something I figured I'd get to at some point some day, but now I want to watch them.
I still love the Abrams Trek, though, and if that means I can't be a real Star Trek fan, well, I'm not gonna lose sleep over that. I don't concern myself with your labels, The Man.
What follows is a ranking of the Star Trek movies. As always, I'm not big on lists, so while I've put them in order of preference, pay more attention to their grouping rather than their standing. That make sense? It's going to have to, because I'm done explaining it.
FIVE STAR LEVEL
STAR TREK VI: THE UNDISCOVERED COUNTRY – The best of the Star Trek movies, UNDISCOVERED deftly draws on the history of the movie franchise to give the original crew a fitting send-off. There's real humor and real tension, and only one super-clunker of a scene (the ridiculous Kirk fights himself bit. Unlike the other pre-Abrams Trek films, UNDISCOVERED actually feels like a movie and not just a longer form TV episode.
STAR TREK – Abrams' relaunch is a masterpiece of frenetic pacing where things just keep happening in order to stop you from thinking too much. I'm okay with that because it's so darn entertaining. This is the only Star Trek movie that looks like it has an actual movie budget, and the only one other than THE VOYAGE HOME that seems designed simply to give you a good time. Big stakes, real tension, enjoyable moments … it all works wonderfully.
FOUR STAR LEVEL
STAR TREK: FIRST CONTACT – The second film to feature The Next Generation cast, FIRST CONTACT skillfully blends a trip back in time (why do Star Trek movies never go forward in time?) with the Borg. There's two distinct plot lines and that gives the film a really nice balance between the more comical Earth-bound away team led by Riker and the Enterprise-bound team led by Picard. Some of the humor is forced (the usually spectacular James Cromwell is a bit off this film around) and some of the decisions are questionable (I'd rather see Troi getting drunk rather than being drunk) but this is an excellent film, directed expertly by Jonathan Frakes.
STAR TREK IV: THE VOYAGE HOME – The Enterprise crew goes back in time in order to appear in a sitcom. It really shouldn't work given how hokey an idea it is, and how hokey some of the gags are, but VOYAGE charms you all the way back to the future. VOYAGE is Shatner's best movie work for Star Trek because it plays to his comedic sensibilities, which are far greater than his dramatic sensibilities.
STAR TREK III: THE SEARCH FOR SPOCK – The first Trek film to really tell a good story, SEARCH is also the first Trek film that gives everyone something substantial to do; before this it's all Kirk, Spock, and People Who Push Buttons and Repeat What the Captain Said. It loses a bit by not having enough of Nimoy-Spock and Uhura, but what's here is very good. It's really Saavik's movie as much as anyone's, and it's a shame that the character almost completely disappears after this movie.
THREE STAR LEVEL
STAR TREK II: THE WRATH OF KHAN – Look, everyone loves this movie, so if you want the full rundown on why I don't like it, click that link back at the start of this section and find out. Essentially, it comes down to this – a brilliant first half that falls apart in the second half. To never have Kirk and Khan face off against one another and instead lob photon torpedoes at each other as they scream on the phone like angry teenaged girls. This film has become my go-to example of how a story can fall apart halfway through a film. It's a shame; the first half – especially the scenes with Khan and Chekov – are splendid.
TWO STAR LEVEL
STAR TREK: GENERATIONS – Wait, this film is my go-to example of how a story can fall apart halfway through a film. Blame it on Kirk. GENERATIONS is the first film with the TNG cast, though it's bookended with scenes starring Kirk. The opening sequence is fantastic as Kirk, Scotty, and Chekov attend the new relaunch of the Enterprise. An emergency happens, the current Captain is a completely befuddled tool, and Kirk and Scotty save the day. Kirk dies. Fast forward to a more competent captain and we get a solid story with the TNG crew and Malcom McDowell. There's too much Whoopi Goldberg – there's way too much Whoopi Goldberg – and Data is at his most excruciatingly annoying, but there's still a lot to like, despite the film force feeding us tricked-up emotional plot games. Picard's nephew dies at the start of the film in order to make him more susceptible to the effects of the Nexus, but up until Kirk's reappearance (or rather, until Picard's entrance into his fancy pants Dickensian household fantasy), it's a semi-enjoyable movie.
STAR TREK: THE MOTION PICTURE – Slow and ponderous, THE MOTION PICTURE is far too caught up in wanting to be Important rather than Enjoyable. I bet if I rewatched it, I'd knock it down to a ONE STAR movie because it's too dull to make for repeated viewings, but as a stand-alone film, it's more boring than awful.
ONE STAR LEVEL
STAR TREK V: THE FINAL FRONTIER – A well-meaning attempt to blend humor and adventure with some deeper philosophical issues, FRONTIER is William Shatner's love letter to James T. Kirk, and it ends up feeling forced and hammy. There are moments so stupid you wonder why no one told him no (like the mountain climbing scene), but I don't hate FRONTIER as much as I feel sorry for it.
STAR TREK: NEMESIS – Completely stupid, no one looks like they even want to be here. There are some nice sets on the enemy's ship but the villains are lame and the treatment of Troi – from being telepathically raped by two different bad guys as she's having sex with Riker, to Picard asking her to endure another session of the mind rape for the good of the mission – is completely disgusting.
UNRATED LEVEL
STAR TREK: INSURRECTION – Blame Netflix.