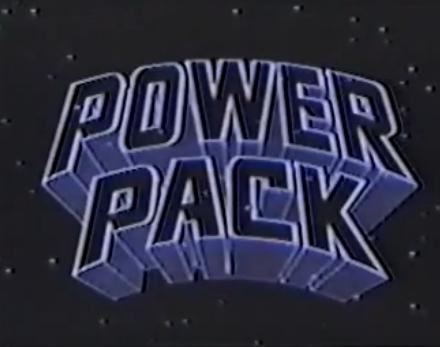 Power Pack (1991 TV Pilot) – Directed by Rick Bennett – Starring Nathaniel Moreau, Margot Finley, Bradley Machry, Jacelyn Holmes, Jonathan Whittaker, and Cheryl Wilson.
I had thought I was finished with Marvel reviews and this would be the one film I couldn't find, but thankfully someone over on Facebook sent me the YouTube link for POWER PACK, and I was able to give the short, 27-minute pilot a watch. Developed for possible Saturday morning pick-up by NBC, it's actually a bit unfortunate that the network didn't pick it up. There's nothing special here except that it's nice to see a genuinely sweet (and simple) superhero show aimed at kids.
POWER PACK plugs into the idea that kids have to do all their cool stuff out of the way of their parents. Recently given superpowers by our unseen narrator, the Powers have just moved into a new house in a new town. Mr. Powers does not want his kids using their powers because it's hard enough to make new friends at school without superpowers.
Things aren't easy for the Power kids at their first day at school. Alex is a know it all who gets hit on by a really cute girl. I know this sounds good, but it turns out she's like a giant. Not, you know, like a superhero giant, but just a girl taller than he is. Then there's Jack, who wants to be cool, so he shows off, using his power to shrink himself to sneak into a spooky mansion with two of his buddies. This sounds like fun, except that its the mansion of some creepy old dead guy and there's rats and weird stuff inside. There is, however, a glowing amulet that looks cool, so what harm could there be in taking it?
Exactly.
It turns out the amulet fell off the portrait of Dr. Mobius, and he wants it back, so makes storm clouds roll in and speaks in a spooky voice. Alex is the responsible one and so he naturally takes charge and gives Jack a bit of grief before they head back to Mobius' house, so the two Power boys and their youngest sister, Katie take the amulet and head to the spooky house to put it back, but they have to fight a beam of light pouring out of the vaguely Orson Welles-esque portrait of Dr. Mobius.
This is all a big deal because the kids are supposed to be unpacking the last of the moving boxes. The parents can't do this because they're off doing shopping, where the dad tells the mom a story from work, and she has the kind of bored look on her face that tells you she's currently having about six different affairs.
The kids rush home after fighting a battle of light energy with the portrait to find that Julie, who could not go to the mansion because she was off making new friends at a bowling alley. Katie comes home, sees that everyone is gone, but since she owes Alex for covering for her while she went to the bowling alley, she uses her super speed to unpack everything, so when the kids come home from Spooky House, the parents are none the wiser.
To say that POWER PACK is good would be an overstatement, but it does demonstrate that a kids-friendly superhero show could easily be achieved, Now that Disney owns Marvel, I'd think a new POWER PACK show would be a no-brainer. There's no costumes here in this '91 pilot and the special effects were clearly done on the cheap and low, but its heart is in the right place.
And hey, we get to hear Mr. Power say, "With great power comes responsibility," so you know POWER PACK's heart is in the right place.