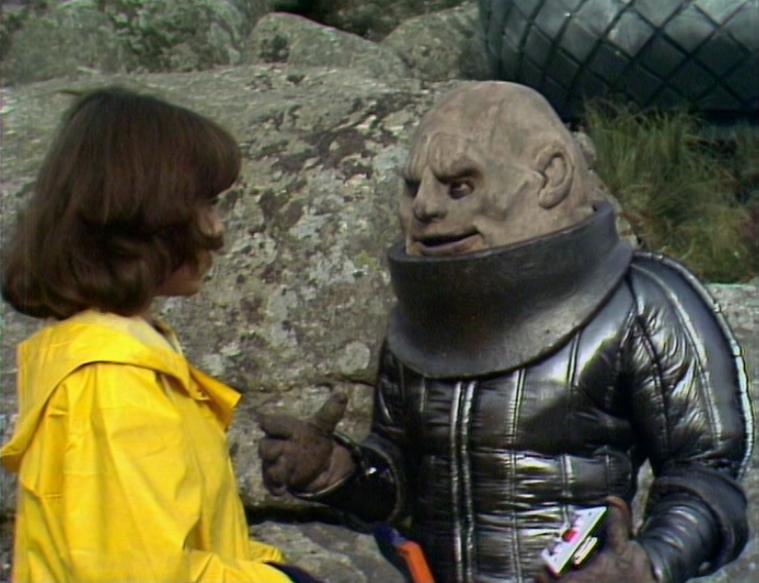 "THE SONTARAN EXPERIMENT" – Season 12, Serial 3, Story 77 – Written by Bob Baker and Dave Martin; Directed by Rodney Bennett – We're continuing straight on from the events of THE ARK IN SPACE, as the Doctor, Sarah Jane, and Harry teleport down to Earth where they encounter some human astronauts and a Sontaran. Sarah Jane thinks the Sontaran is Linx because she's racist and thinks all Sontarans look alike. OK, not really – they're all supposed to look the same. Because They're Clones.
I understand that budget concerns are a reason why we couldn't get a lot of two-parters in the Classic Who days, but I think the program would have benefited from more of them. (According to "the internet," this was the first two-parter since THE RESCUE (in 1965) and the last until BLACK ORCHID (in 1982).) THE SONTARAN EXPERIEMENT was apparently supposed to be connected to THE ARK IN SPACE, but new producer Philip Hinchcliffe split them up, filming ARK entirely in the studio and EXPERIMENT entirely on location. In another unique move, they shot both episodes on video tape as opposed to film, which helps to make EXPERIMENT feel like a direct continuation of ARK instead of a separate entity.
What I like about EXPERIMENT is also what keeps it from being highly memorable – by coming in at only two parts and by telling a good, simple story, EXPERIMENT is the kind of serial that I watch, really enjoy, and then forget about. I feel it's a bit like what DOCTOR WHO would look like if it was designed in the Pulp era: quick set-up, interesting conflict, good fight scene, resolution.
EXPERIMENT is one of those serials that's more known for external reasons: being a two-parter, being shot on tape, being an all-location shoot (in fact, there are no interior locations, at all), and being the serial in which Tom Baker slips and breaks his collarbone.
There's a great bit in the extra features where Lis Sladen is talking about that moment. She's been chained up by Sontaran Field Major Styre and is unconscious. The Doctor is emotional over her condition, which Styre mocks, which causes the Doctor to rush at him, which causes Baker to slip and crack his collarbone. Sladen relates how she was playing unconscious when this happened so her eyes were closed, but she clearly heard that sick cracking of the bone. Baker was replaced by stuntman Terry Walsh for a good number of the scenes filmed after this, but its to the production team's credit that it's not obvious.
The story here is, as I said, incredibly simple, but like the preceding ARK IN SPACE (although not to the same high quality), EXPERIMENT tells its story effectively. The Doctor, Sarah Jane, and Harry teleport down to a future Earth where nature has reclaimed the world. They land in what once was the middle of London (but was actually filmed at Hound Tor – I love the names of British locales) and while the Doctor works on fixing the planet-side teleportation system, Sarah Jane and Harry go off on a walk.
I wonder if Ian Marter realized his days were numbered here. He was hired before Baker, and hired because the producers thought they were going to hire an older actor to play the Doctor and wanted someone younger to add some action to the show. I don't think having two Companions is automatically a bad idea, but it does force the producers to make sure there's enough going on to keep every character purposeful. At the very least, they have to decide how to balance the plot time assigned to a third character – do they eat up some of the first Companions screen time? Some of the Doctor's? I thought Bob Holmes did a pretty good job in ARK of giving Harry and Sarah something to do during most parts of the serial. It's really only in the final act that Harry begins to feel a bit of a third wheel. Baker and Martin are less effective here, but there's still an attempt – first Harry falls into a trap which he has to escape from, and Sarah Jane ends up embroiled with one of the astronauts.
There's a really nice circular quality to the narrative as characters move in and out of contact with one another. The Doctor stays put while Sarah Jane and Harry go off together. Then Harry falls into the trap and none of them are together. Then the Doctor gets captured and is rescued by Sarah. Then Sarah gets captured and is seen by Harry and then the Doctor. It mostly works, although just like ARK, by the end of the serial, Harry feels a bit unnecessary. He gets to be the one to sabotage the Sontaran ship, but that's little more than walking up a small incline, entering into a pod, and then exiting it (we don't even get to go inside with him).
Unfortunately, there's not a whole lot of really memorable parts to EXPERIMENT. The one real exception to that comes at the end of the first episode, where Sarah Jane sees Styre exit his ship and mistakenly thinks he's Linx, from THE TIME WARRIOR, which was also her first adventure. She's noticeably distressed at the sight of her first alien encounter, and it's a really nice moment to appreciate just how much thought Lis Sladen put into her acting. She's not just the most beloved Companion because she was here for the start of the Golden Age; she's also a darn good actress.
I like how they cast South Africans to play the British astronauts to enforce the idea that language changes over time. The astronauts are filler antagonists while we wait for Styre to reveal himself, and then filler fodder for Styre while we wait for the Doctor to save Sarah Jane. One of them is revealed to be in league with Styre, but that moment doesn't carry much narrative weight.
As for Styre, I bloody well love the Sontarans and I like that Styre is on Earth to do research. His curiosity at coming across a female of the species gives him a real, honest quality to his villainy. He doesn't tie up Sarah Jane and torture her for personal reasons – he does it because that's what a proper scientific survey scout does on a pre-invasion mission. It's horrible, of course, but that coldness of intent makes Styre a better character.
Styre is stopped, of course, but the more effective ending comes not in the battle between the Doctor and Styre, but in the Doctor's dressing down of the Sontaran Marshall that Styre has been reporting to during the serial. He tells the Marshall that the Sontaran invasion plans are in humanity's hands, which is enough to ward off the Sontaran invasion. It's not the narrative brilliance of this resolution that makes it work (because it's not brilliant, at all), but rather Baker's cool, calm, confident rebuke of the Marshall. It shows that the Doctor, at his best, is about out-thinking rather than out-slugging his opponents.
THE SONTARAN EXPERIMENT isn't an all-time great episode, but it is a solid story that you can consume in under an hour.