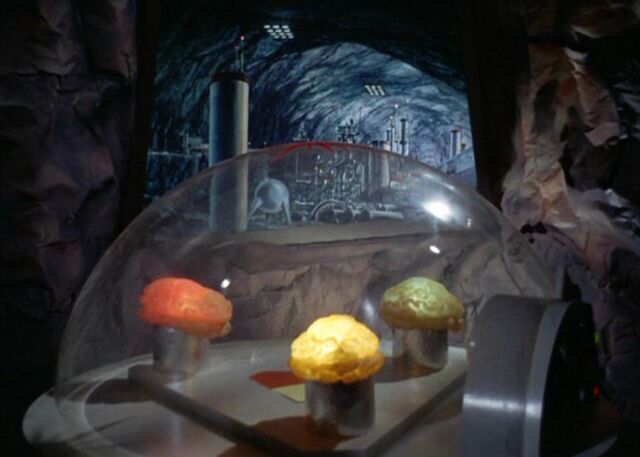 **
"THE GAMESTERS OF TRISKELION"
Season 2, Episode 16 (Production 47), Story 45
Written by Margaret Armen; Directed by Gene Nelson
PLOT: Kirk, Uhura, and Chekov are kidnapped by powerful aliens and forced to reenact Gladiator.
SUB-PLOT: Who's going to change McCoy's diaper?
KIRKISM: "I didn't lie. I did what was necessary."
HEADER QUOTE SPOKEN BY: Shahna
Nothing sums this stink bomb of an episode up more than its one bright spot being Kirk punching a woman in the face. It's the one moment all episode where something genuinely interesting happens. The rest of the episode is predictable, tired, boring, and exists basically for William Shatner to overact his ass off for 50 minutes.
Kirk, Uhura, and Chekov get kidnapped during a transporter run and end up who-the-f*ck-knows-where, where they're turned into slave gladiators. When Koenig and Nichols received their scripts and saw that they were getting included on Kirk's away team, they must have been thinking, "Finally! Someone other than Spock and McCoy get to go planet-side!" but as they flipped each page, they must have realized that they weren't being included so they could play a vital role in the episode, but rather so Shatner wouldn't have to share screen time with anyone.
GAMESTERS OF TRISKELION is a Ham and Kirk episode. Kirk is front and center from start-to-finish, and Shatner displays all of his worst traits – overly melodramatic acting and look-at-me preening. The most telling moment of the episode comes right near the end. They've been forced to wear slave collars on Triskelion, but Kirk has fought off four opponents to win a bet with the Gamesters. The Gamesters tell them to take their collars off; Uhura and Chekov simply reach up and remove the collar, but Kirk … Kirk rips it off and hurls it aside, then starts demanding guarantees, then blows off Shahna (the fellow slave that he's seduced into helping him) in front of everyone by basically telling you, "It's not me. It's you. You're just too … darn … stupid to come with us."
As insipid as it is to watch Kirk introduce the concept of "love" to Shahna ("love" here for Kirk meaning "to turn you on sexually – Kirk has no real interest in her beyond using her to help them get out of this jam), what's transpiring on the Enterprise is even worse. Once Kirk disappears, Spock, McCoy, and Scotty try to figure out what's happened, which is basically Spock asking Scotty to do all the things that a cadet would know to do, and then the three of them having a hissy contest with one another.
Since we know where Kirk and Co. are, there's no real tension to these scenes, so the joy for the viewer needs to come from watching them figure it out, and watching them interact with one another. McCoy is the biggest problem, because when you take Kirk away from him it's like taking a 4 year old's favorite blanket from him, all whiny and emotional. At this point in the series (nearing 50 episodes completed), I'm completely tired of the Spock = logic; McCoy = emotions bit when it's done in such a way as to seem forced onto a situation that really doesn't warrant it. McCoy is all, "We have to find Jim! We can't leave!" and Spock is all, "The evidence suggests we go this way." McCoy's trumped up anger that Spock is somehow not doing the right thing is just plain stupid. Spock presents the only evidence they have and draws a logical, if seemingly improbable, conclusion, and McCoy just can't handle it. All of his anger at Spock, though, is pretty clearly just a manifestation of his favorite blanket being taken away from him.
Or really, it's like a favorite blanket throwing a hissy fit because his kid has been taken away from him.
GAMESTERS OF TRISKELION is pretty much as bad as it gets. There's some good lines from Chekov, and Kirk seducing Shahna just so he can punch her in the face and knock her out is definitely a surprise moment (especially when you see that little Chekov has tied his handler up; Kirk certainly could have done the same without cracking Shahna's jaw), but there's not much reason to watch this episode.
When Kirk gets taken to the see the people in charge and they're three colored brains in a jar, well, the fact that Shatner's acting is the most silly thing in that scene tells you everything about TRISKELION, an episode that demands the MST3K treatment if anything in STAR TREK does.