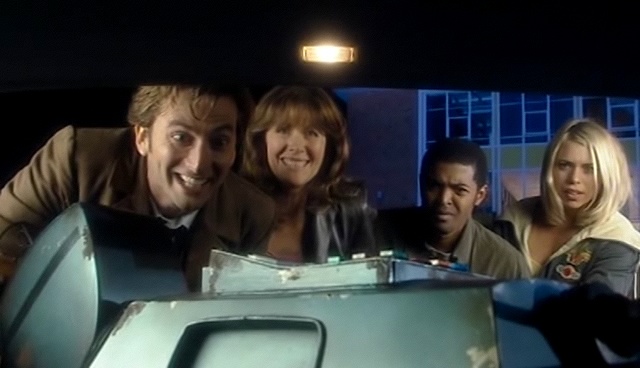 "SCHOOL REUNION" – Series 2, Episode 4, Story 170 – Written by Toby Whithouse; Directed by James Hawes – Mickey calls in the Doctor and Rose to investigate the strange goings on at a school. It seems someone has let Giles be the Headmaster instead of the librarian and all the kids are really smart, so you know something's going on that needs to be stopped. But just as you're settling in to your Buffy geek out, who comes wandering into the school but the immortal Sarah Jane Smith. I mean "immortal" in the "we'll always remember her" sense and not in the "never gonna die" sense. Then when you're getting ready for the classic Doctor Who geek out, the show goes all Doctor and the Scoobies, delivering a very Buffy-esque episode that has the Doctor playing Buffy, Sarah Jane playing Willow, Rose playing Dawn, Mickey playing Xander, K-9 playing Giles, and Giles playing Principal Snyder. The villains even have bat wings as a nod to vampire lore, but nobody gets staked. Because That Would Be Silly.
The first wholly enjoyable episode of the Tennant run, SCHOOL REUNION is part new DOCTOR WHO, part old DOCTOR WHO, and part Buffy the Vampire Slayer. It's easy to make the Buffy connection with Anthony Head showing up playing an authority figure in a school, but the influence goes beyond stunt casting and setting. Toby Whithouse's script is soaked in Whedon, from Finch referring to K-9 as "the metal doggy thing" to Mickey's self-awareness of himself as the new K-9: "I'm the tin dog!" he realizes when he and K-9 have been ordered to stay in the car. Later, he asks to come aboard the TARDIS and says, "I don't want to be the tin dog." Which is a silly thing to say since K-9, you know, lived in the TARDIS and stuff.
Like a Whedon show, too, you've got the lonely lead out front and the rest of the group spending an inordinate amount of time wondering how they fit in with the duty-laden lead.
The star attraction in this episode is, of course, the return of Sarah Jane Smith. Whithouse totally blows the reveal, too, as we not only see her well before the Doctor does but we do it in a very general way. There's no "oomph" to her being back on screen. Now, I'm sure the adverts at the time had Liz Sladen all over the place so it wouldn't have been a surprise, but it still could have provided a thrill. The way it plays out on screen seems completely designed for new fans, who might get the jolt at the Doctor's recognition and not as a knowledgeable viewer's reaction to her.
Sarah Jane is at the school investigating the same things that Mickey noticed. The Doctor is stunned when she's introduced to him but she doesn't recognize him. He tells her his name is John Smith and they go through a whole "I used to know someone who went by that name" routine, which is maybe her way of testing him.
The best scene in the episode comes later that night. Everyone has snuck into the school to investigate the weirdness, and Sarah Jane picks a lock on a door and finds herself face-to-face with … the TARDIS.
It's a hammer shot of a moment, and Sarah Jane is stunned and overwhelmed. This might well be in my top 10 all-time favorite moments in DOCTOR WHO history, but it'd definitely be in the top 25. Slowly, she backs out of the room where the Doctor is waiting for her.
Tennant plays "I'm maybe possibly going to cry because I'm maybe possibly emotionally overwhelmed by what I'm seeing" as well as any actor working, which is what makes his pairing with Russell T Davies so perfect; as much as I prefer Chris Eccleston's acting to Tennant's, Tennant is much better at delivering the performances Davies prefers in the Doctor.
It's scenes like the reunion between the Doctor and Sarah Jane that make Tennant's run as the Doctor work for me. Here's a guy who's been playing the Doctor for four episodes and he really makes you feel like he's the guy that Sarah Jane used to run around with through two different faces six faces ago. (That's an awkward sentence …) It's partly in the way he carries himself and partly in the way his voice works – he's a young guy but he can do the whole "old soul" thing with his voice and it makes this scene work wonderfully.
Sarah Jane gets on him about his never coming back for her and it's a great bit of writing by Whithouse to use the constraints of the external workings of the show to play on the internal workings. We know that Sarah Jane is played by an actress who has a life to lead outside the show, just as we know that producers and script editors and heads of drama change. These are external reasons why companions tend not to come back, as is the unexciting but very real drudgery of getting a weekly show on the air every week.
Somewhere along the line, too, it's like someone decreed Companions couldn't come back. It's really sort of odd when you think about it. The show would always bring back the Daleks or Cybermen for a ratings boost, but no one ever thought, "Hey, let's bring Jo or Sarah Jane or Ian or Peri back for a spin?" What's the negative? Let's be honest, a show can always use higher rankings and, let's be honest twice in one sentence, it's not like many of these Companions went on to have a fully-stuffed acting schedule.
The bonus for us is that because it's so rare for an old Companion to come back and interact a new Doctor (where have you gone, Brigadier?) the reunion of Sarah Jane and the Doctor carries a tremendous impact. Whithouse writes a great Sarah Jane, too, as she's both glad to see the Doctor and hurt that there has been no contact between them in the interim. Whithouse uses Sarah Jane to speak for all past Companions about the loss they feel when their TARDIS ride is over, and her advice to Rose is heartfelt and telling, giving Rose a glimpse of a future she doesn't want to think about.
When the Doctor leaves K-9 inside the school and Sarah Jane panics about that, you can see how her fear is not just about the idea of losing K-9, but losing her last tangible connection to the Doctor.
Like a new girlfriend jealous of past loves, Rose wants to know how many Companions there have been before her. The Doctor asks, "Does it matter?" and to Rose it matters a great deal. This working class girl wants to think this is a great love story, that she's more special to the Doctor than anyone, anywhere, anytime. The Doctor does his part to fuel this fantasy, too, telling her she's not like everyone else, although he doesn't follow through on the implication of that statement.
When Sarah Jane tells her, "Come find me some day. If you need to," it's a heartbreaking moment about what happens to characters after the television cameras stop following them.
The Sarah Jane-Rose relationship starts out decidedly cool – Sarah Jane thinks Rose is too young and Rose thinks Sarah Jane is too old. It's a bit predictable, but Whithouse keeps the exchanges short. Mickey helps sell the scene, too, as he's happy to see the Doctor taken down a peg – even if he doesn't completely understand the Doctor/Companion relationship. (Mickey sees it as love and/or sex.) What helps, too, is that Sarah Jane and Rose's antagonism is based less on their dislike for each other than it is on their own fears – Sarah Jane feels she's insignificant and Rose doesn't want to think of TARDIS life before her arrival.
SCHOOL REUNION is also where Mickey stops being just a gag and starts being useful. With one of the worst debuts in DOCTOR WHO history back in ROSE, Mickey has been treated as Rose's whimpering, spineless, lovesick wet blanket. Rose loves him and treats him like crap at the same time; he's clearly become Rose's back-up plan but she's unwilling to completely let him go.
Mickey is the person who gets the episode going here, calling in the Doctor when he notices all the crazy goings-on around the school. It's a great continuation of what Davies has been doing with Mickey in bits and pieces since WORLD WAR THREE. Mickey has kept whatever backdoor entrance into the UNIT computers, which is what leads him to tell Sarah Jane in this episode that he's "technical support" before re-labeling himself "the tin dog."
At the end of the episode, the Doctor offers Sarah Jane a return engagement on the TARDIS, but she passes. Mickey, however, asks to be let on because he's finally grown tired of sitting everything out. Rose isn't thrilled, but at least Mickey is finally making active decisions instead of passive ones.
Blessedly, SCHOOL REUNION is a new ride with old characters and not just a simple nostalgia ride. It's more a Tier Two serial than a Tier One serial, but it's the first episode of the Tenth Doctor's era that makes you think this could all be a good thing.