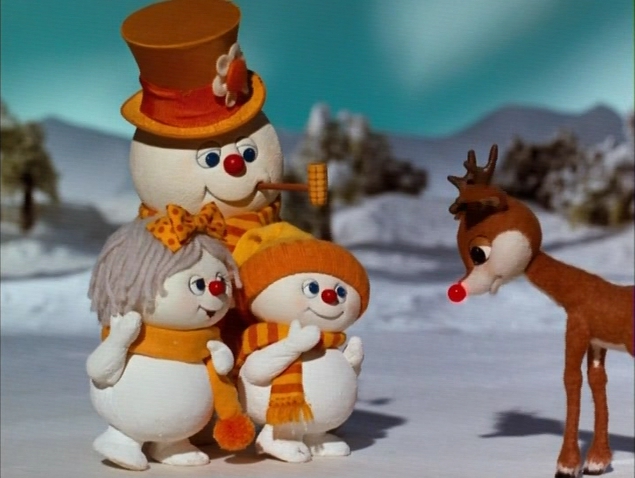 Rudolph and Frosty's Christmas in July (1979) – a Rankin-Bass Production – Starring Billie Mae Richards, Jackie Vernon, Red Buttons, Mickey Rooney, Ethel Merman, Paul Frees, Alan Sues, Shelly Winters, and Don Messick.
Containing some of the finest stop-motion Rankin-Bass produced, RUDOLPH AND FROSTY'S CHRISTMAS IN JULY gives off contradictory vibes. When the film takes place at the North Pole, it's a really good Christmas special that sees Rudolph and Frosty hanging out with Frosty's kids, but when the action switches to the warm-weathered circus, it really kinda blows.
It's not the whole July angle or the warm weathered locale that causes the suckage, either, but rather the whole inane "save a circus" plot and the host of new characters that are either boring or annoying. Frosty and Rudolph are hanging out and Rudy's having trouble getting his nose to glow when Milton the Ice Cream Man shows up in his hot air balloon to pick up ice cream he stores at the North Pole to keep it cold. (It's typing sentences like that last one that makes me love writing these reactions.) Rudolph tells everyone to come meet Milton because he's a ball of laughs, but when they get there the dude is balling his eyes out because the love of his life won't marry him. Turns out her mom's circus is about to be taken over by an evil businessman named Sam Spangles and she's not in the mood for marrying.
This catches the attention of Winterbolt and introduces a fantastic villainous plot involving his desire to turn off Rudolph's nose light, which will ensure that Santa can't fly away from the North Pole in a storm, which will mean he can't deliver presents, which means the kids of the world won't love him, which means his powers will weaken, which means Winterbolt can kick the fat man's ass and reclaim his position as Evil Overlord of the North.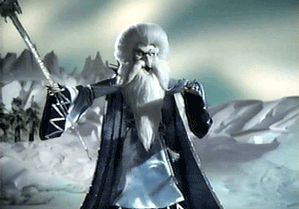 Winterbolt, who's part Charlton Heston and part Saruman is an awesome villain. He used to rule the North until the Aurora Borealis turned itself human and stopped him, and in the process gave Rudolph his shiny red nose and put the big slumber on Winterbolt.
The backstory Rankin-Bass creates for Rudolph and Winterbolt is pretty complex, and much more reminiscent of something Tolkien or Lewis would attempt than the simpler, succincter backstories of the Rankin-Bass TV specials. When the special focuses on Winterbolt, it works really well. There's a real sense of Rudolph and Frosty being important characters in this larger story, so it's a double-shame when the producers take all of this history and use it to fuel our heroes flying off to save a circus.
Imagine Bilbo readying himself to go on his big adventure and then ending up in a plot stolen from the Brady Bunch and you get an idea of how this story gets completely run off the rails.
The circus folk are just that – circus folk. There's no one as visually appealing or personally engaging as the Miser Brothers from The Year Without a Santa Claus or all the Clock People from Rudolph's Shiny New Year. There's a god-awful annoying gun-toting circus owner voiced by Ethel Merman who calls Rudolph "Blinky." She's completely brutal as a character, which is a shame because Merman's big voice is perfect for voice work in a special like this – it's just a shame it's wasted in this yee-haw, bang bang character.
Perhaps guarding against the idea that these circus characters blow, or perhaps trying to get butts in the seats and pay to see characters they're used to seeing for free, the producers bring in Santa Claus, Mrs. Claus, Big Ben, and Jack Frost for support. Of course, Jack Frost doesn't really look or sound like the Jack Frost from R-B's Jack Frost special, but I'm not entirely certain which version was created in reaction to the other.
There's a "bad Rudolph" named Scratcher who is just pitiful. He's got the tired "let's let everyone know he's the villain by making him ugly" vibe about him and he's so painfully shifty that it will confound your mind that Rudolph could ever fall for this loser's scheme. It hurts the special, too, that there's all this thought and complexity in the backstory but then the plot to get Rudolph to act selfishly so he loses his nose-glowing powers is so thin and transparent that it hurts the story.
The catch about Rudolph's powers is that his nose will glow as long as he acts selflessly, but when he acts for evil purposes, they'll go away. They trick him into using his nose to light up a dark wagon and "steal" the circus money and give it to Spangles, who's pretending to be a cop. Rudolph can't exonerate himself because if he does, Winterbolt will remove his spell of protection from Frosty and Family, causing them to melt in the heat.
It's a good subplot – do you do the right thing at the cost of yourself, or do you save yourself and doom your friends? The answer is the first option, of course, but it's nice to see it laid out in a kid's special in such a sharply defined manner.
Everything works out, of course, and Winterbolt ends up getting turned into a horrific looking tree, but by that time I just wanted this special to be over. Coming in at over 90 minutes, it makes for an interminable watch during the circus sequences. There's too many songs that aren't any good and too many sequences at the circus that go on too long.
It's a shame because the backstory and set-up deserves better than the story that follows. It's well worth a watch, but by the mid-point you'll be looking for something to read to help you make it through.